After a stressful exam/assignment period, I'm finally free!! (well, for now.)
*runs around in circles to celebrate freedom*
This uni semester was the most stressful semester I have ever been through in my many years of uni life. It was so much pure madness that I've completely forgot how to blog. I kid you not.
The night after completing my exam, I stared at my laptop thinking to myself:
I had no idea what to do!
Needless to say, 'rediscovering' YouTube and blogging was pure fun.
So, to welcome myself back into the virtual world, here are some simple nails inspired by 2NE1's Park Bom's nails from Do You Love Me!
The picture below is Park Bom's nails itself, uploaded by her nail artist herself.
The style was pretty similar to her nails from Falling In Love, which I tried out here.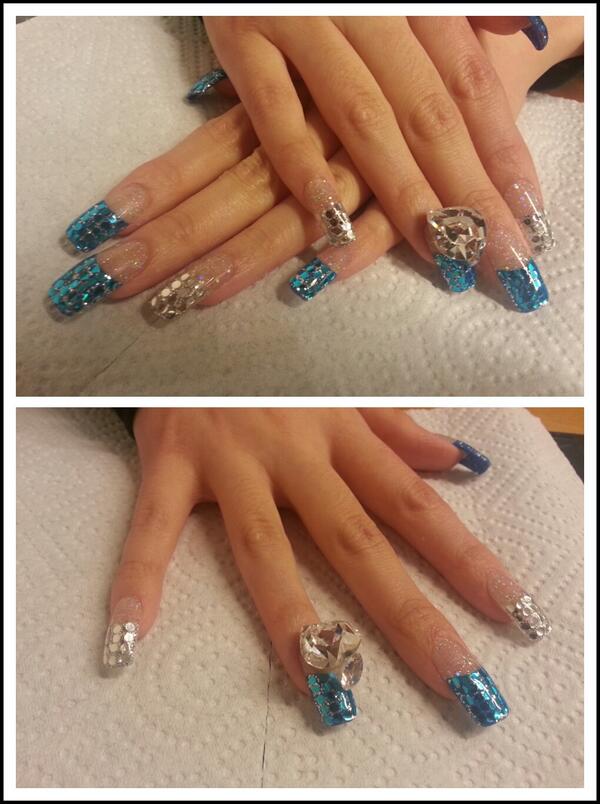 Instead of laying out the glitter chunks in an orderly fashion, I scoffed and thought of a simpler method.
Below, I used tape to shape the french tips and prepared blue and silver polish + glitter polish.
The pictures below pretty much speaks for themselves!
Revlon Top Speed #860 Metallic
BYS Silver Glitter Polish (random from a box set)
Savy by DB in Splash and Dash (LOVE IT!!)
* Step 6 was an optional step. I used a very sheer glittery nail polish over the entire nail to give the nails a fun shine and to bring the whole look together.
They are super easy and I really enjoyed creating them. Best thing is, you can easily do both hands perfectly without worrying about streaking or messing up!
Ohh! Before I sign off, I just read that 2NE1 will be releasing a new song this Thursday (November 21 2013) speculated to be titled "I'm Lonely". About time 2NE1 graced us with their great tunes, considering they promised us a new release every month from July onwards. Meh. I'm super excited for Thursday tho! I have high hopes!
Alright, I'll let you guys go now.
M.May